New Nebraska Fires Breakout Thursday
RELEASE DATE: Apr 14, 2023
---
Cooksley Complex Fires - Cooksley, Milburn Ave. and Pleasant Valley fires- Custer and Blaine Counties
Custer County Emergency Management Director Mark Rempe reports the Cooksley Fire started Thursday afternoon and went as far north as the Middle Loup River in Blaine County. By late afternoon, dry lightning sparked seven additional fires.
Today, three fires remain active in Custer and Blaine counties – the Cooksley, Milburn Avenue and Pleasant Valley fires. The initial size of all the fires is estimated between 100,000 and 120,000 acres. Nebraska State Patrol Drones arrived this morning to get a better assessment on size and find any hot spots that remain, Rempe reports.
The fires are considered 85% contained, Rempe said.
"Due to the size of the fire, assessment on all the damage is just beginning," Rempe said. "We are thankful there was no loss of life. A large number of fire departments, aircraft and volunteers assisted, but an official count is not yet available."
A disaster declaration for the Cooksley Complex Fire has been submitted by the counties.
Region 26 Emergency Management Director Alma Beland reports 23 departments are working the fires in Blaine County. Local contractor Arrow Aviation from Broken Bow is providing aerial suppression on the fires.
The Cooksley Fire burned from Custer to Blaine County, Beland said. The Melbourne Avenue fire burned south of Brewster and the Pleasant Valley Fire burned north of Brewster. Both the fires are in Blaine County. Several outbuildings were lost and five homes were threatened. Crews will do further assessment as the smoke from the fires clear.
Beland said cooler temperatures and higher relative humidity have helped extinguish the fire.
McCann Fire in Cherry County
The McCann fire is 90% contained with a 7,040 acres footprint. Incident command staff is considering downsizing the response as conditions continue to improve. National Guard resources have demobilized from the fire.
Rock Creek Fire in Jefferson County
The Rock Creek Fire is at 90 percent containment. Following enhanced mapping provided by a Nebraska State Patrol drone flight yesterday, the fire's footprint was scaled down to 1,800 acres, from the initial estimate of 2,600 previously reported.
The Rock Creek had no notable flare ups or break-outs throughout the night. Moisture levels are expected to rise significantly over the next 48 hours with rain in the forecast. As a result, state agencies have begun demobilizing and turning all support operations back over to local departments.
Fairbury Rural Fire Chief Kenny Krause expressed his gratitude for the regional response to the Rock Creek Fire: "I want to thank everyone from the state level who helped us out on this, as well as the responding local volunteer fire departments," said Krause. "Most importantly, I was to thank the Fairbury community for their overwhelming donations and support. It was crucial in helping us fight this fire."
Rock Creek Station, a state historical park and state recreation area in Jefferson County, is closed until further notice.
Other Fires
Several other fires were reported across the state were reported and handled locally in Douglas, Lancaster, Rock, Wheeler, Hall, Wayne, Stanton and Thurston counties.
For updated fire information visit: www.nema.nebraska.gov/. A fire dashboard is available at: https://www.arcgis.com/apps/dashboards/831e38de33b541cdb60d71c44e45d6ff.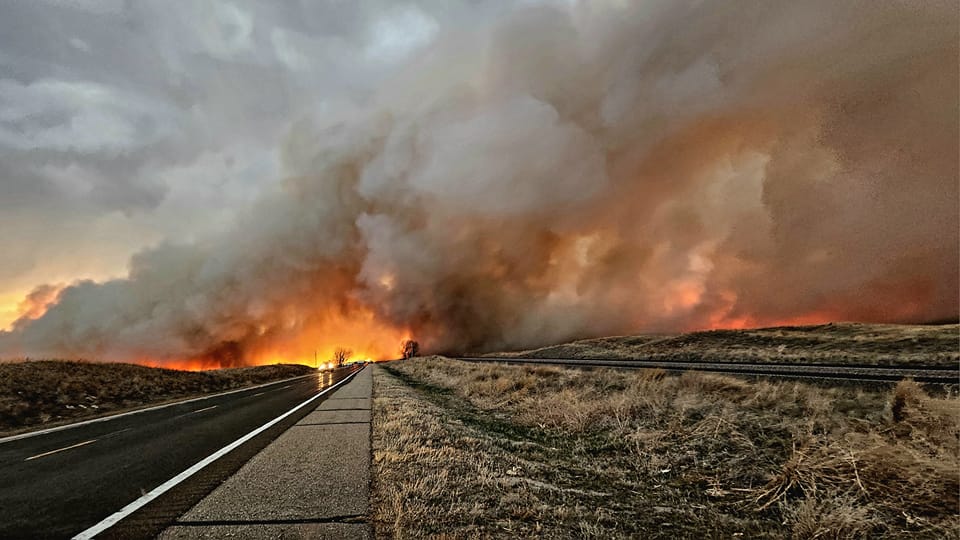 Left: photo west of Anselmo on Highway 2 at 7:57 p.m, April 13. Right: Lori Kastens klein photo. Provided by Custer County Emergency Management Facebook.