Firefighters Transition Operations as Carter Canyon Fire Nears Complete Containment
RELEASE DATE: Aug 03, 2022
---
Crews are scaling back operations on the Carter Canyon Fire as aerial observations show containment to be at 85 percent, with the fire's footprint remaining at 15,630 acres.
"We're beginning a staggered demobilization of crews that have come in from outside the area," said Public Information Officer Ben Bohall of the Nebraska Forest Service. "Tomorrow, we plan to transition the majority of operations to the Gering Fire Department and their local VFD partners in the area, barring any unforeseen developments."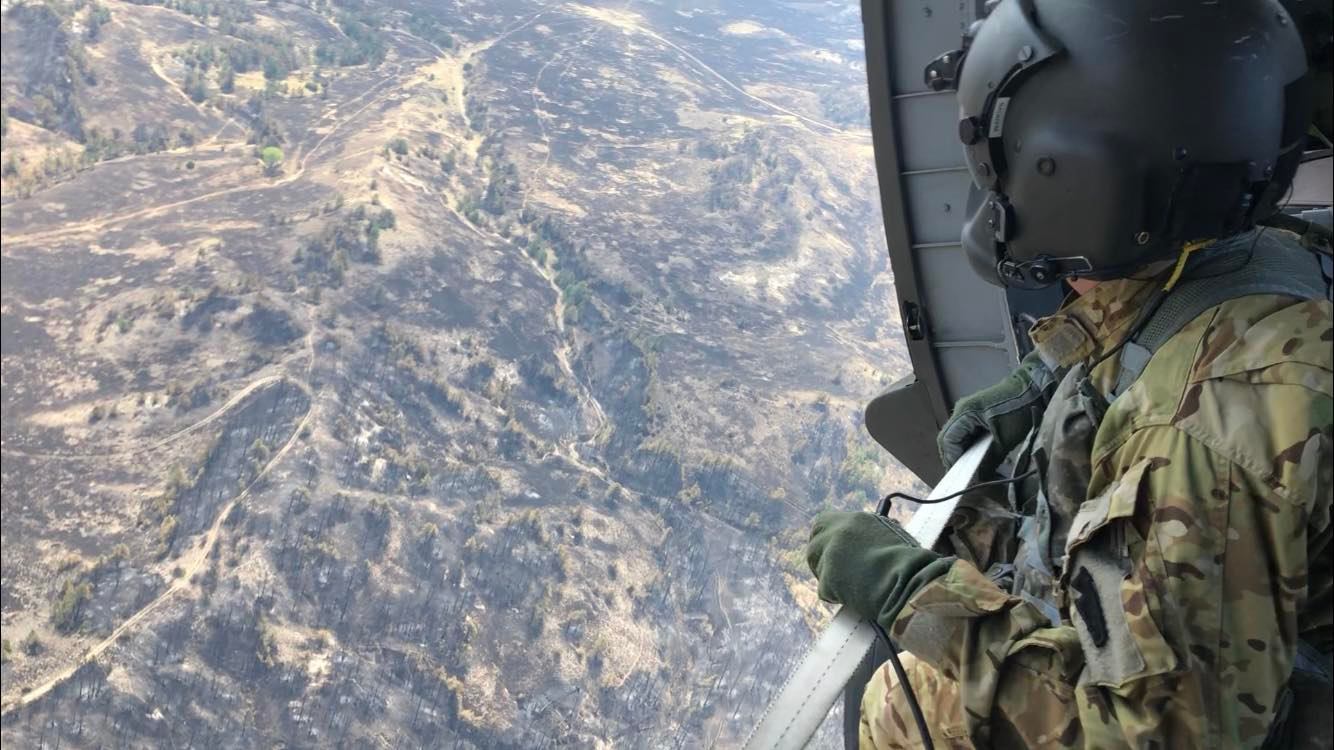 Firefighters made considerable progress on mop-up and expanding fire lines yesterday afternoon and evening. While the area did not receive measurable rainfall, two additional fires near the Carter Canyon Fire started. Local fire departments and resources from the Carter Canyon Fire, including two UH-60 helicopters, extinguished both fires. Each burn encompassed 3-5 acres.
Multi-mission aircraft continued surveying the canyons this afternoon, looking for heat signatures, smoke, and possible flare ups.
The Gering Fire Department, the Nebraska Incident Management Assistance Team, and the State of Nebraska would like to thank the Gering community and local businesses for their overwhelming support and donations – including bottled water, ready-to-eat meals, and even sleeping accommodations for crews from out of town.
"Their contributions directly benefited our efforts," said Incident Commander Nathan Flowers of the Gering Fire Department. "Our firefighters were able to do their jobs more effectively out on the line, put in long hours, and ultimately get to where we are today. We appreciate all they've done, and our hearts go out to those who are affected by the fire."
Congressman Adrian Smith, a resident of Gering, also visited incident command, thanking firefighters and first responders for their efforts.
Roosevelt Public Power District utility workers continue to replace power poles throughout the interior that were impacted, coordinating with crews on the ground. The power company has reported they are 90 percent completed restoring power to the affected area. Individuals are still urged to follow all guidelines or notices put out by local authorities regarding public safety.
Landowners impacted by the fires should contact their local USDA Natural Resources Conservation Service and Farm Services Agency offices for information about assistance programs to help with fences, water structures, grazing lands, and other issues.