Wildfire Burns at Buffalo Creek Wildlife Management Center
RELEASE DATE: Nov 15, 2021
---
Banner and Scotts Bluff Counties Submit Disaster Declarations
Nebraska Emergency Management Agency is working with other state agencies and local partners to assist on the Buffalo Creek Wildfire in Banner and Scotts Bluff Counties. The estimated 2,538-acre fire started
Sunday, Nov. 14, at about 11:30 a.m. The fire is eight miles south of Gering on state land in the Buffalo Creek Wildlife Management Area.
Unified Command has been established with Gering Fire Chief Nathan Flowers and Banner County Fire Chief Tim Grubbs, who are coordinating with Nebraska Game and Parks and the Wildland Incident Response and Assistance Team (WIRAT) which includes representatives of the Nebraska State Fire Marshal's Office and Nebraska Forestry Service.
NEMA Preparedness and Operations Manager Earl Imler arrived at the scene today to coordinate with unified command to get additional state assets to the scene.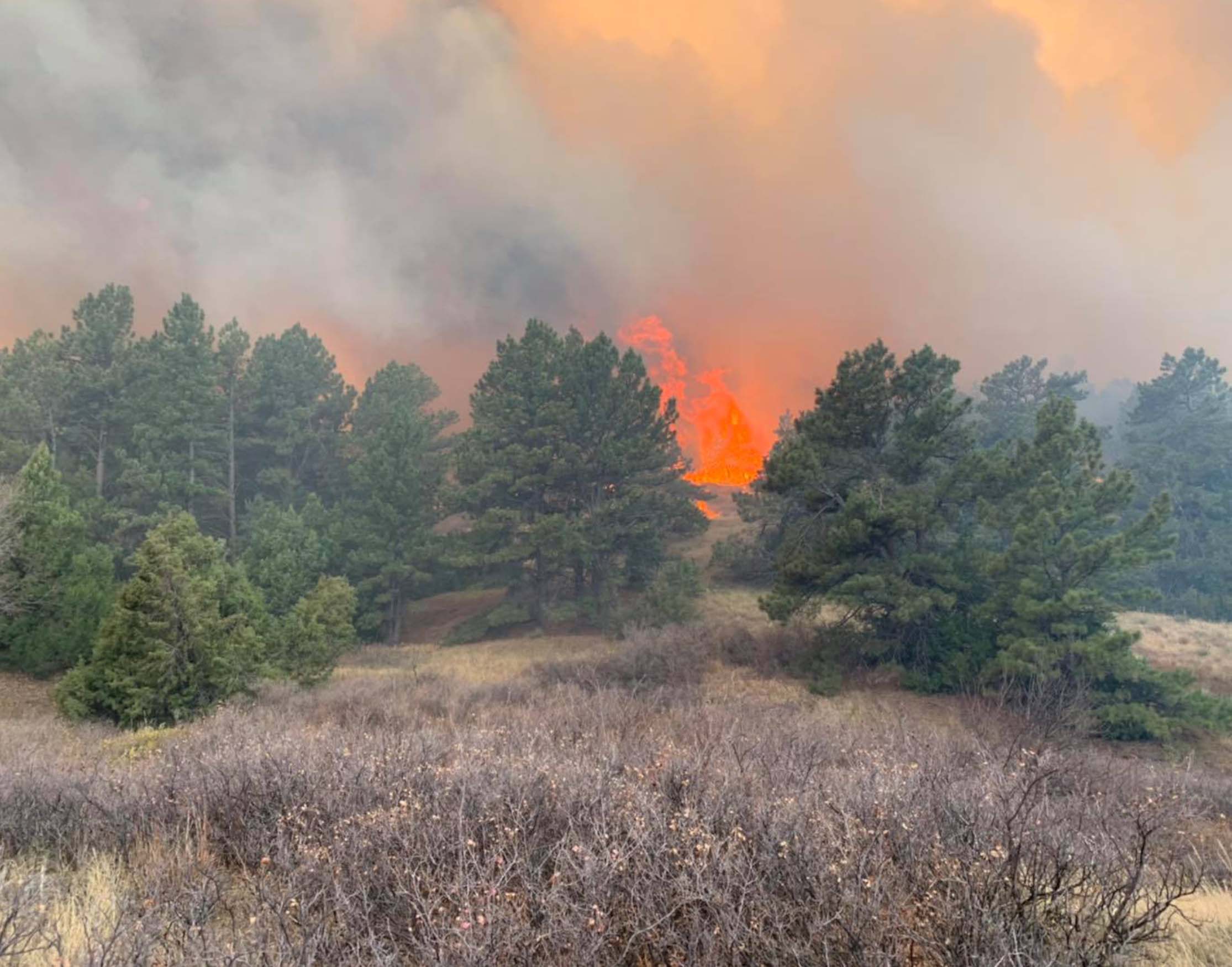 This morning, at about 9:30 a.m., two UH-60 Blackhawk helicopters and nine Army National Guard soldiers departed from Lincoln to provide support in the form of water drops. Two single-engine air tankers from Colorado flew retardant drop missions on Sunday and are returning to continue work today.
"Rugged, inaccessible terrain and wind-driven runs have hampered firefighting efforts," Flowers said. "Potential Red Flag warnings might continue to hamper suppression efforts." A Red Flag Warning is the official designation for increased fire weather danger, often comprised of warm temperatures, low humidity and strong winds.
The spot forecast for the area includes winds out of the northwest at 30 miles per hour. There are 24 fire engines with personnel on scene to fight the fire
The fire has approached Wright's Gap Road where firefighters are providing structure protection. Firefighters have created mechanical lines for containment and prepping areas where firefighters can successfully burn areas out. Area closures are in effect. Buffalo Creek Wildlife Management Area and Wright's Gap Road are currently closed.
Donations of water, Gatorade, Gatorade zero, eye drops, ibuprofen, granola bars, individual chips, Chapstick would be appropriate for those interested in providing support. Firefighter Ministries is coordinating those efforts. Firefighter Ministry. Donations will be accepted today from 2 to 4 p.m. MST. The mailing address for the Firefighter Ministry is P.O. Box 531 Scottsbluff, NE 69363 for monetary donations.
Photo Credit: Gering Fire Department